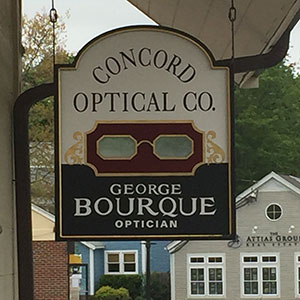 Concord Optical is an independent optical shop with a focus on your family. We are located at 80 Thoreau Street in the Depot area of Concord Massachusetts. We have two Opticians on staff as well as two apprentice Opticians and an Optometrist.
Concord Optical has been happily helping people see better since 1968! We love Concord and try to reflect Concord's values in our business philosophy. We integrate new technology with old world business values. We greet each patient who comes through our door as a friend. Some we have known for years and some are new, but everyone always leaves as friends! We love helping see the beauty in our world!
How We Work
We believe every pair of glasses we design should enhance your vision, protect your vision and make you look and feel your best. We work with our patients and get to know them, so we can guide them to the frame and lens combination which will work best for their visual needs!
Enhance Your Vision
In order to provide you with the best vision possible, our staff attends conferences and education classes across the country. Before bringing in new products we do extensive research to ensure the product it up to our standards and yours! We live and work in a beautiful part of the world and we want to ensure your glasses enhance your experience!
Protect Your Vision
Protecting your vision is a vital part of what we do at Concord Optical. Sight is a precious gift and it can be taken away with even a minor accident. We believe by wearing the correct frame in the correct situation we can help you protect your vision. We strive to make you look good and also keep you safe! We are able to fit safety glasses for most sports and hobbies regardless of your prescription.
Looking Your Best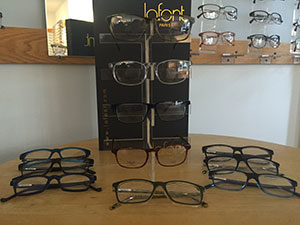 Looking good is always important. Our staff strives to stay on top of the latest trends and fashions in order to fit you with a pair of glasses that not only helps you see better but also makes you love the way you look! Our selection includes trendy frame styles through classic styles is full of the trendy frames down to classic to ensure we have the best frame for your style!
Educating Our Customers
Buying eyewear can be a very confusing and overwhelming challenge. At Concord Optical we try to simplify this process by educating you about the lenses available for your prescription. We explain why one option may be better than another, but ultimately let you make the decision based on the information you are provided.
George Jr.
Owner / Optician
George Jr. is the owner of Concord Optical. He cannot remember not working at Concord Optical. Often times you will hear him talking to long time customers about times when he was a child helping his parents clean the store.
He learned many things from his parents including their hard work and dedication to their patients. In 2006 when George's father passed away he did not miss a step taking over and continuing the great reputation his father had built.
George Jr. has been a licensed Massachusetts optician since 1999. He earned his degree from the Worcester Technical Institute and has earned his Bachelor's degree from the University of Massachusetts. He is American Board Opticianry advanced certified and National Contact Lens certified. Currently George works as an adjunct professor at the Benjamin Franklin Institute of Technology in Boston. He is also a member of the Opticians Association of Massachusetts and is on the Board of Directors.
George says the favorite part of his job is helping people solve their visual problems.
Charles Leahy, O.D., M.S.
Optometrist
Dr. Leahy grew up here in Concord, and he and his wife Teresa have raised three children in Concord, all of whom attended CCHS, and went on to Boston College, Holy Cross and West Point Military Academy. 
After completing his medical training in primary eye care in Boston at the New England College of Optometry, Dr. Leahy pursued a research degree in physiological optics from U. Cal Berkeley. Since then, Dr. Leahy has consulted with major contact lens companies, and performed clinical research studies on behalf of contact lens manufacturers, ophthalmic clinical research organizations, and for the FDA.  He has invented and continues to develop a device for ophthalmic drug delivery.
While Dr. Leahy specializes in contact lenses, routine eye care is provided as well. We can offer testing for glaucoma, cataracts, dry eyes and macular degeneration. If you are looking for surgical care for cataracts, laser vision correction or corneal disease, he can provide an objective assessment of your condition and recommend the best surgeons to manage your specific needs.
His primary practice is at the Massachusetts Eye & Ear Infirmary in Boston, where he is nationally recognized for his skill and expertise in contact lens fitting and management of complex corneal cases, such as keratoconus, corneal transplants, astigmatism, allergies and dry eye.  While he specializes in the complex, long term success with routine contact lens wear is a special interest of his, and he spends much time educating patients with that goal in mind for them.  As an Assistant Professor of Ophthalmology for Harvard Medical School, he teaches ophthalmology and optometry residents. 
Because of his research specialty, he is frequently one of the first to offer newer lens product introductions to his patients, such as daily disposable, sports performance, astigmatism or bifocal lenses, and custom made lenses for problem fits.  We offer the full service optical of Concord Optical for people that use both contact lenses and glasses. 
Should patients need access to specialty testing or diagnostic lens designs, Dr. Leahy can see them in Boston and then follow them here locally.  He offers fundus photography and optical coherence tomography (OCT) scanning that can often replace the need for dilation drops during a routine eye exam. 
He offers convenient phone or online replacement ordering for lenses to be delivered to your door, and updates the contact lens information for you online after each visit. 
Trish
Optician
Trish has been a licensed Optician since 1997. She is American Board Certified and National Contact Lens certified. She earned her degree from New Hampshire Technical Institute. She started working at Concord Optical as an intern while she was at school and has stayed on to become a vital member of our staff.
Trish says her favorite thing about working here is finding fashionable frames to make you look your best!
Lisa H.
Apprentice Optician
Lisa H. has been working at Concord Optical since 2009. She began working here as a bookkeeper. Slowly she learned more about the optical business and has become our lab guru. Her attention to detail and dedication to her craft is outstanding. Lisa in now American Board of Opticianry certified, and National Contact lens certified.
Lisa says her favorite part of her job is making a beautiful pair of glasses!
Lisa B.
Owner / Apprentice Optician
Lisa B. also began as a part time bookkeeper while she was working at a daycare. Her job at first was to help run the day to day business operations of the store. Lisa soon discovered her love for sunglasses and eyeglass frames and we learned her skills were needed in different areas. She is American Board of Opticianry Certified and National Contact Lens Certified. Lisa has become our frame buyer. She works with our frame companies to choose the latest fashion in both eyeglasses and sunglasses for our office. She is constantly learning about new fashions and trends to keep our selection one of the best in town. Lisa is serves as an associate director to the Opticians Association of Massachusetts.
Lisa's favorite part of her job is buying all the newest trends!
Our History
1968
John Nastasi Opens Concord Optical on Main Street Concord
1974
George Bourque is hired
1981
George Bourque purchases store from John Natassi
1986
Joan H. is hired
1989
Concord Optical moves from Main street to 115 B Thoreau Street
1996
Trish M. begins work as an intern
1998
Joan H. Retires
1999
George Bourque Jr is hired
2005
Concord Optical moves to its current location 80 Thoreau Street
2006
George Sr. passes away
2009
Lisa H. joins Concord Optical
2012
George Jr's wife Lisa joins Concord Optical
2015
Charles Leahy OD begins offering eye exams at Concord Optical
2019
Dr. O'Shea joins Concord Optical
Contact us today or visit our appointment request page to find a time that is convenient for you to see us.